"Is your website coasting idly in a sea of competitors? Give your site purpose! Make it work for you."
How does your website look on mobile phones and tablets?
Responsive Design
Three out of every five searches are now completed using a mobile device! What does this mean? It means people are accessing your site on their smart phone and tablets. If your site doesn't respond to these devices, you're turning away potential customers. See our responsive designs here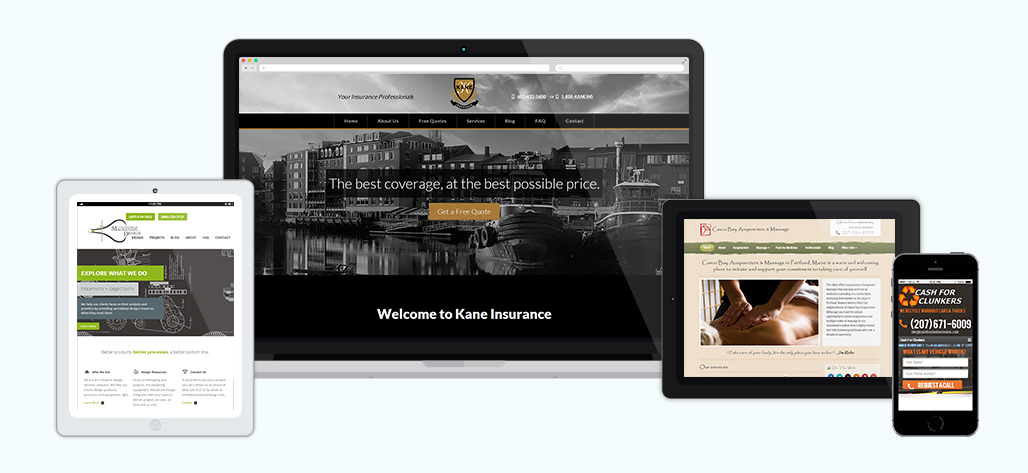 Unreal customer service! Mainely SEO was able to help me rank above my competition. Before their services I was nowhere to be found on the web! I would highly recommend them for your digital marketing needs. Their entire team is easy to work with and is more than happy to actually explain what they are doing and why it is helping!
Strategic Partners



Why Choose Mainely SEO
We understand your small business's online marketing needs. We have worked with many local Maine businesses to create and implement successful digital marketing campaigns. Our experience with inbound marketing allows us to provide you with a robust digital marketing plan that will help you increase your key performance indicators. Whether it's generating more sales, increasing your e-mail sign-up list, generating more eBook downloads, or simply getting more people in your store or restaurant, we have tailored plans that will help you drive more business. Our techniques are proven and directed by analytical decision-making. Call us today to learn more about how we can increase your bottom line!
Our Work
Lions, tigers, and bears oh my! More like websites, local SEO, and PPC oh my. Have a look at our portfolio. We are more than happy to discuss these projects and what we have learned about digital marketing along the way.